I'm a product designer with over a decade of experience.
I create solutions that are modern, efficient, and delightful.
Previously at Google, Capital One, & Kaiser Permanente.
View Work
View Resume
Email Me
Shrinking scope while increasing impact
Designing & delivering solutions that ship – across Responsive Web, iOS, & Android
Creating & maintaining design systems for teams that increase project velocity
Connecting directly with engineers, ensuring solutions align with reality
Mentoring designers, teaching Figma for internal courses, always-usable documentation
Passionate for the details that matter – the craft of design, research, and our users
"Hard working, detailed oriented, strives to find best solutions to well defined problems, focusing on outcomes. Caring, reliable, supportive teammate and partner. Thoughtful, inclusive, collaborative, and influential. Listens and reflects. I am personally very pleased and proud to have you on the team!"

Ricardo Marquez

Director of Design, Capital One
iOS App
Android App
iPadOS Tablet App
Desktop Web
Mobile Web
✓ Shipped
Product Designer, The Climate Corporation
Product Designer at Climate, a cross-platform tool which transforms field data into meaningful insights, helping farmers sustainably enhance yield potential, improve land and water efficiency, and manage climate risks.
Launched new multi-channel solutions across our platform's 3x iOS apps, 2x iPad apps, 2x Android apps, and responsive webapps: FieldView Advanced Filtering, Yield Analysis, Communications Manager, Fleet Data Sync.
Led development effort on our design systems for rapid prototyping and pixel-perfect hi-fi libraries, performed moderated usability testing with customers on new components and iterated as testing discoveries were found.
View Project
iOS App
Android App
Mobile Web
Desktop Web
✓ Shipped
Senior UX Designer, Mobile Apps, BOLD
Senior UX Designer leading the entire mobile product lineup for BOLD, a suite of tools for job searchers.
Delivered new solutions and iterative improvements for our mobile app lineup, from inception to feature launch.
Led longterm future-state research and envisioning initiatives, defined our core mobile differentiation strategy.
Established our mobile apps design system which integrated our multiple sub-brands' visual styles, while rolling out a brand-agnostic "white-label" library for rapid concept design and prototyping.
Coming onto the team, my audit of our usage analytics showed the mobile product lineup had low adoption and engagement, especially compared to our equivalent desktop web product.
To flip this on its head, I led cross-team ideation sessions to yield 3x distinctive mobile-first directions for our product and business offering.
These different directions were used to research product market fit, de-risk early, and begin developing; while advancing from sketch concepts to fully interactive prototypes as tools to accelerate our process.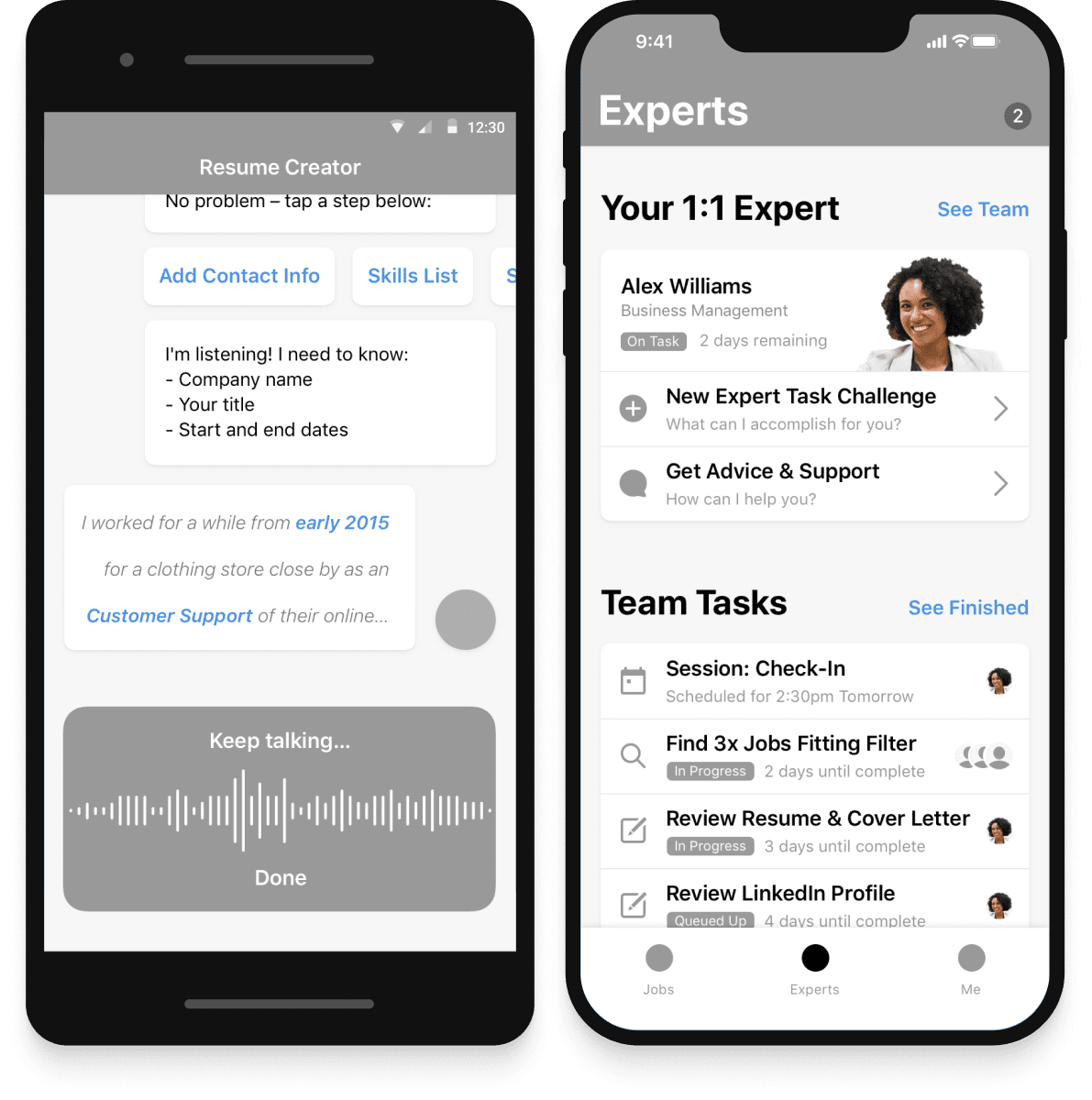 iOS App
Android App
Desktop Web
Mobile Web
✓ Shipped
Senior User Experience Manager, Capital One
Senior UX Designer working in the National Small Business group. Collaborated with leadership, product, research, and front- and back-end engineering teams to design new experiences for our New Account Enrollment and Member Migration journeys – optimized for increasing conversions, access, and the user's quality of experience.
Delivered mobile-first improvements to New Account flow, generating 350% faster enrollment completion.
Collaborated with research, engineering, and data analytics to proactively identify and improve our self-service experiences.
Launched national research testing program to evaluate prototypes with real customers onsite.
The existing Capital One new business account enrollment flow was slow, buggy, and didn't scale for mobile and tablet screens.
Our redesign introduced autosave, a resequenced and optimized flow to reduce user input, and a mobile-responsive design.
iOS App
Android App
Desktop Web
Mobile Web
✓ Shipped
User Experience Team Lead, Kaiser Permanente
Team Lead and mentor for UX designers, visual designers, and engineers; and primary project contributor for Kaiser Permanente's new brand identity, member portal, mobile app, and marketing websites while at Redshift Digital Design agency.
Online appointment booking rose 80% for the year
Site visits more than doubled year over year
Member satisfaction with the digital experience rose from 86% to 92% after being unchanged for five years.
View Project & Case Study
iOS App
Android App
Desktop Web
Mobile Web
✓ Shipped
UX Architect & Interface Designer, Dwelo
Solo UX Architect & Interface designer for publicly-launched Dwelo, the smart apartment platform for property managers and residents to control and manage their homes at scale.
Acquired by Level Home Inc in Nov 2021
"In July 2018, Google, Nest, Dwelo, and Alliance Residential announced a partnership to install a technology package in 25,000 luxury apartments, representing the largest rollout ever in the country." (Source)
Design evolution for the climate control UI used in the main interface of Dwelo's at-scale smart home management platform.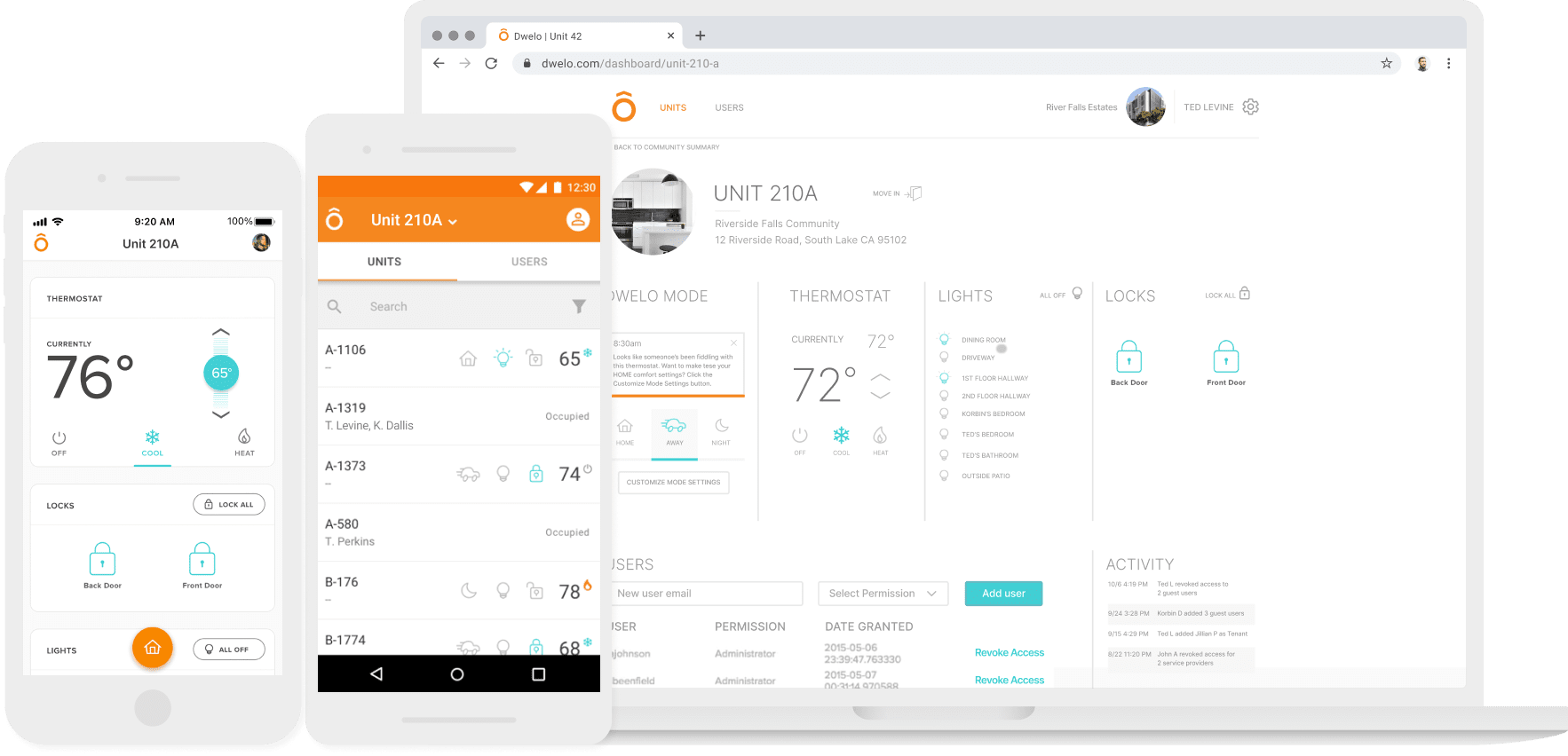 iOS App
Android App
iPadOS Tablet App
Desktop Web
Mobile Web
 Watch
✓ Shipped
Product UX Designer, Cross-Platform Products, Instaply
Sole Product/UX Designer working directly with leadership and the Apps and Web Eng team for Instaply, a B2B/B2C cross-channel customer support platform which integrates into companies' mobile apps, web, and SMS, and channels.
Led full product design process, including contextual inquiry research and metrics analysis, journey maps, personas, wireframing, user testing, product integration and feature rollout strategy.
Directed rapid ideation and interactive prototyping sprints with our agile engineering team, yielding 2x faster app iteration/delivery efficiency and a richer end-user product experience.
Led worldwide testing with consumers and pilot partners including leaders in banking, home improvement, and electronics.
View Project & Case Study
iOS App
Desktop Web
Mobile Web
✓ Shipped
Founding UX & Visual Designer, Mobile App & Web Experiences, Aura
Founding UX & Visual Designer from initial concept phase to public launch for Aura, the mobile app that applied state-
of-the-art mass scale data mapping and on-device sensor integration to educate users about the art around them.
Led design process from discovery to pilot-phase hi-fi interactive prototype testing, to official launch.
Designed app's affordances and motion UI for hyper-location-awareness, connected to nearby art.
Defined information model of digestible knowledge cards and interactive data visualizations, referencing institution databases and crowd-sourced entries from users in the app.
View Project & Case Study
Android App
Desktop Web
Mobile Web
Hypertargeted Email
✓ Shipped
Interaction Designer, Google AdWords Internal Team
Working with Google's strategy, design and engineering teams, I executed on Google's design projects alongside
their internal teams, providing shipped work in visual, information, motion, and interface design.
Lead designer for Google AdWords Opportunities Dashboard redesign initiative: created interactive and visual specs for the Opportunity cards with prototypes and handoff-ready specs for engineering.
Created motion graphics, visuals, and rich email campaigns for AdWords, Google Partners, Google Shopping Express, and Youtube. For our hyper-targeted email campaigns, rollout of my personalized progress tracking design resulted in a significant increase in customer reengagement.
Distilled AdWords' new and complex campaign bidding features into easy-to-understand graphics and messaging for the broad 41M customer base, from new users to our highest-tier advanced clients.
Created wireframes, flows, specs, and high-fidelity designs for Google Partners responsive website.
Lead designer for Google concept projects: Google Now AdWords integration, AdWords Chrome Extension, and AdWords Mobile App explorations.
Hello! Below you'll find a showcase of my direct-contribution Design Systems experience.
iOS App
Android App
iPadOS Tablet App
Desktop Web
Mobile Web
✓ Shipped
Eng-Ready, Reusable & Responsive Component Specs
Project: Climate FieldView Responsive Web Reports
I worked closely with Engineering to develop both coded spec and design system components in tandem. The specs portion were continuously referenced by Eng on our 3x releasing projects at the time; and the design system components in Figma were used on 4x upcoming projects, as production-accurate rapid prototyping components.
iOS App
Android App
iPadOS Tablet App
Desktop Web
Mobile Web
✓ Shipped
Richer Prototypes With Microinteraction Handling
Project: Climate FieldView Advanced Filtering
Over the course of two years and while I worked on buildout of new areas and functionality of our FieldView product, I built out our design system with variants, representing multiple states of the interface including default, :focus, :hover, and :active; as well as responsive behavior/overrides, error state handling, and microinteractions of the interface.
iOS App
Android App
Desktop Web
Mobile Web
✓ Eng/Prod Rollout
0»1 Buildout of Responsive Web & Mobile Native App's Design System
Project: MobileCoin Design System
During my 6 months as sole designer at privacy-first payments platform MobileCoin, I collaborated with numerous partners in engineering, studying the scope of our planned mobile native app and web app releases, and established our design system to assist in our rapid deliver-to-market initiatives, while also supporting global brand adjustments and mode accommodations (light/dark mode, UI scale).
The design system features the global Foundations parent library, with components and visual style declarations used across all products and documentation; while the iOS/Android and Web Elements library applies the global library to a variety of in-use and upcoming UI components.
iOS App
Android App
iPadOS Tablet App
Desktop Web
Mobile Web
✓ Mentored
Figma Guru: Managing Libraries While Educating Team on Figma Best Practices
Project: Bayer/Climate, Lead of 8-Week Figma Training Sessions
As the lead of our 8-week training session, I provided hands-on workshops and exercises to train our team of designers, strategists, managers and PMs on fundamental and advanced methods of Figma – including activities to go hands-on with our design system libraries on native apps and mobile-responsive web apps.
I strive to understand problems, define solutions, foster empathy, and craft meaningful experiences.
I strive to understand problems, define solutions, foster empathy, and craft meaningful experiences.
UX Specialties and Processes
Let's make an experience that your customers will love. Varying on the needs of our project, here are some of the methods that I employ as we arrive at a solution.
Informed & Lean
UX Strategy
Competitive analysis, qualitative and quantitative research, and auditing user interaction patterns across devices and use cases.
Cross-Team
Collaboration
Working with teams, stakeholders and users – in-person with whiteboards or remotely with online tools.
Create, Test,
Learn, Repeat
Rapid ideation, wireframing, motion design, and interactive prototyping from low to high fidelity to validate and crystalize our solution.
Design Ready
For Launch
Providing assets, specifications, and live code feedback/collaboration for my delivered interaction patterns, IA and content strategy, and full visual design style guides.
Working with Ted on our smart-apartment cloud platform was a pleasure. His attention to detail and focus on what matters most - the user experience - permeated all aspects of the job.
Ted took our product, with all its complexities and unnecessary screens, and simplified it to the point where our customers can just dive right in. He listened well and knew just the right moments to show us what we wanted before we even knew we wanted it.

Michael Rovito

Founder & CEO, Dwelo
Ted has been a high performing designer on the UX Design Team, going out of his way to understand our customers and the problems we are solving for them, so that we can design and deliver the right solutions. He was an integral part of shipping product improvements and enhancements, making 2020 a success.

Gilbert Guerrero

Climate UX Design Team Manager
Ted is one of those rare talents who can easily traverse the theoretical, conceptual and practical of the design process without over indexing in any one approach. He is able to challenge standard conventions in a manner which the most skeptical want to embrace. Ted will always be on my "must hire" list.

Joseph O'Sullivan

Head of User Experience Business Banking, Capital One
Ted goes above and beyond what is asked of him on a daily basis. He does a thorough job of exploring design ideas and explains them in a clearly thought out manner. He thinks of design solutions from many different approaches, from motion graphics to mobile apps. 'Over deliver' is what I've experienced working with Ted. He's also a wiz at new technologies. I would recommend him again and again.

Kimberly Johnson Clark

Associate Creative Director, Google AdWords
Ted is passionate about good design. He's smart, naturally inquisitive, and collaborative. He guided a cross-disciplinary team through the design process and working closely with our research department to fully understand both user and project stakeholder needs. Most importantly, Ted created several interactive prototypes for the client that were instrumental in demonstrating important micro interactions.

Stewart Maclennan

Director of Digital Media, REDSHIFT Digital, Inc.